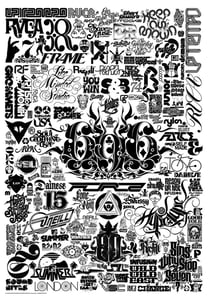 $

35.00
LMS Studio Logo Poster.
AO Sized Poster, Screenprinted on Archival stock.
ike Minded Studio / LMS™ is a Sydney based design studio with a range clients such as: Nike, Stussy, Zoo York, MTV, Jim Beam, Vh1, ES, ETNIES, Tiger Beer, Absolut Vodka, Reebok and Coca-Cola to name a few. Designer Luca Ionescu's is renowned for his logo and typography work which has been documented in numerous publications and online a large concentration of type work can be found in the Los Logos series.